One of us: Albert Masip
Albert Masip is a member of Gaia since summer 2018. He has studied Computer Engineering at UPC. His Bachelor's Degree Final Project was about software data handling for nanosatellites (C3SATP). He is currently developing internal tools for the Gaia team.

Among his hobbies, there is his interest for the Chinese language.
the
barcelona

team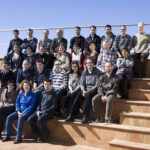 The experience of our group at the Universitat de Barcelona (IEEC – ICCUB) in the space sector dates from Hipparcos satellite (1989 – 1993) and has contributed from its very beginning to the concept of the Gaia mission and its design. Our team is providing important contributions to simulations, core and photometric processing and in the preparation of the data archive of the mission. It comprises 30 people between scientists and engineers, from developing big data management software to scientific testing and validation, and preparing for the scientific exploitation of the data of the mission . The Barcelona Data Processing Center also led by our team coordinates the running of the heaviest part of the operational data reduction system at the Marenostrum (Barcelona Supercomputing Center BSC-CNS) and CSUC
contact

us
Facultat de Física (Universitat de Barcelona)

Astronomy department, 7th floor

08028 Barcelona


| | |
| --- | --- |
| gaia | |






Parc Científic de Barcelona

D tower, 4th floor

08028 Barcelona